Around the same time as Studio One at GTV9 was transformed into Toyland for the last Tarax Show Christmas Pantomime, the BBC in London was getting ready to launch a new childrens' television series about a curious character who travels through time and space in a police telephone box. Dr Who was also (mainly) a studio-based production, recorded to videotape and subsequently copied to film for distribution to television stations around the world.
It's a well known part of Dr Who folklore that the BBC wiped many of the early video tapes, leaving 16mm film kines as the only surviving copies. Many of these were also thought lost, but gradually surfaced as a result of detective work over a period of years.
The team of BBC technical staff who supervised the restoration of Dr Who for DVD adopted the name "The Dr Who Restoration Team" and documented their work online (see: http://www.restoration-team.co.uk/).
I came across this site around 2006 while considering how best to transfer the Tarax Show kines to the digital realm, and was particularly interested in what the BBC technicians had to say about their experiences with telecine transfers (the process of converting a film to video):
BBC Resources recently took delivery of a brand-new telecine machine, its first for ten years. The Philips SDC-2000 'Spirit' Datacine is a state-of-the-art CCD film scanner, operating at a resolution of two thousand lines per frame and capable of outputting in a variety of television and data formats … The Spirit is a machine capable of giving the best possible pictures.
They also commented on the superior quality of transfers experienced with the Spirit compared to the more conventional "flying spot" scanners such as the Rank Cintel machines which they had previously used.
Searching for a Spirit Telecine
So the search was on for a Spirit telecine machine, and I didn't have to look very far. It turned out that The Post Lounge operated a Spirit at the Village Roadshow Studios on the Gold Coast, Queensland.
I contacted the The Post Lounge and spoke with Larry Engleman the Post Lounge senior colourist who operated their Da Vinci 2K editing system and the Spirit telecine.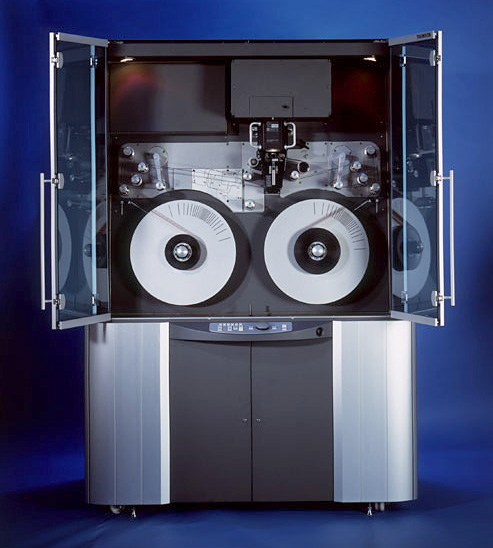 Soon after I was able to visit The Post Lounge, where Larry showed me both their DaVinci editing suite and the Spirit Datacine (as it is correctly called), a large machine which was in a separate room. Larry had worked for three years in film editing and cutting and then for ten years as a film grader. He had also worked as a telecine operator at the CBC in Canada, so had a good knowledge of kine transfers.
I spent about two hours with Larry. He was of the view that film was still the best archival medium — the longevity of both the Dr Who and Tarax Show kines being a testament to this.
The First Sample Transfer on the Spirit
Larry offered to run a short test transfer of some 16mm footage, which in due course we arranged, and I received a four minute video file on DVD.
A segment of this sample transfer from "The Magic Mirror" (1961) can be seen below.
So I'd found a high quality telecine option and proven the process. This was a good starting point.
The next post will look at some initial experiments with digital restoration of dust and scratches from this sample transfer.