In 1956 the Olympic Games ushered Melbourne into the television era. My father (Denzil Howson) had joined GTV9 as Assistant Programme Manager in September that year and we were one of the rare households in those early days with a TV set. It was an American "Admiral" set and it cost a lot of money. The Happy Show premiered on 19th January 1957 — just two days after GTV9 began regular transmissions.
Conceived and produced by Denzil, The Happy Show, later to be re-named The Tarax Show, was a live childrens' variety show that went to air Monday to Friday from 5.00pm to 6.00pm. I was only a toddler at the time, but it didn't take long for me to become aware of The Happy Show and of my father's close connection with it.
Starting in December 1957, Denzil decided to produce an end of year special for the Happy Show viewers:
"As Christmas 1957 approached, I thought it might be a worthwhile addition to our Children's programming to produce an end of the year special — we called it a pantomime.

"As I was producing the 'Happy Show', the only person I had to convince of the value of such an idea was myself."
Thus began the annual tradition of the "Christmas Pantomime" at GTV9. Each year my father wrote and produced a fantasy piece for the festive season. As the years went by their sophistication grew.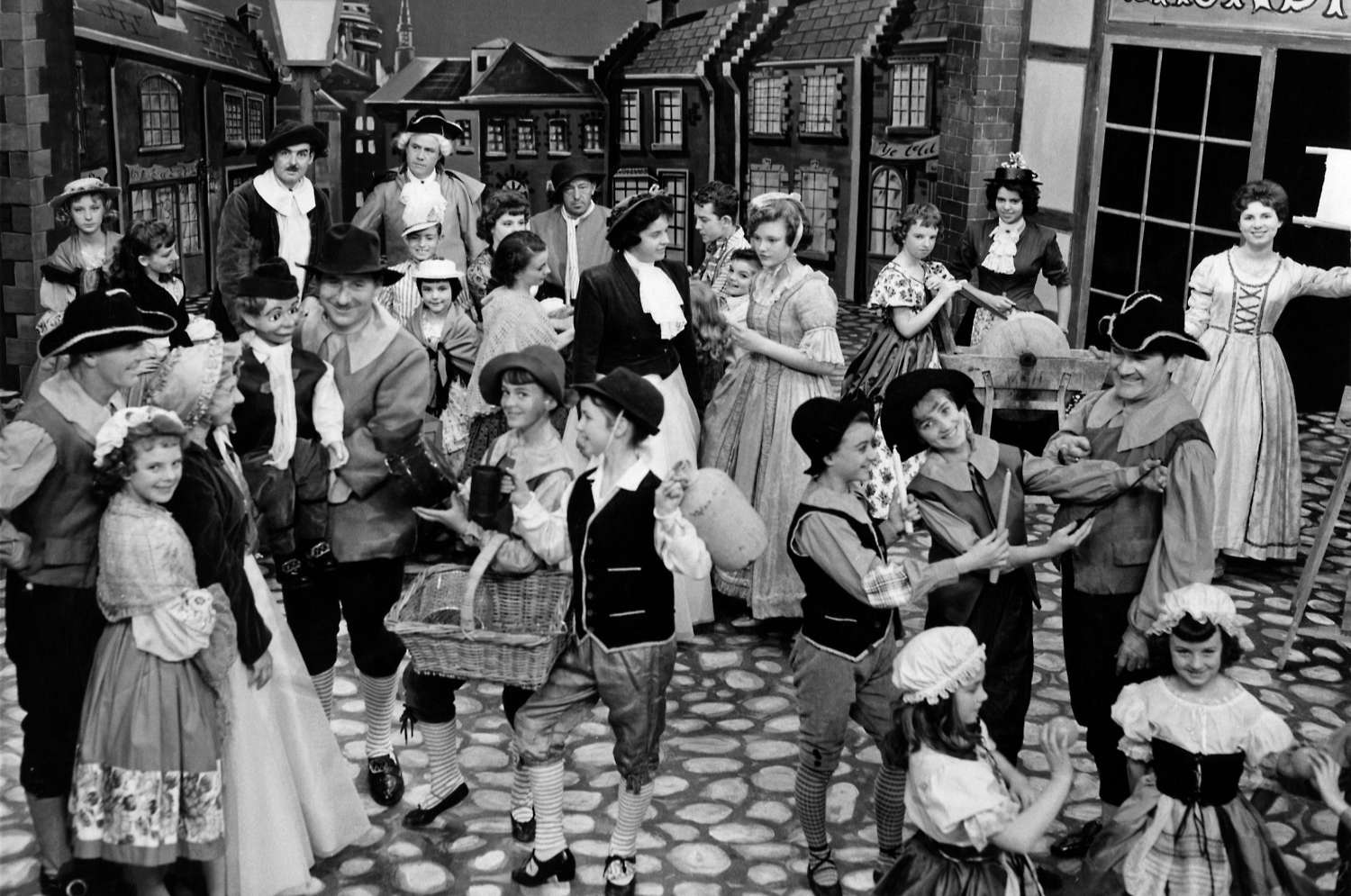 These studio-based productions were the annual highlight of home-grown children's programming on GTV9. Denzil writes:
"Word had got around that the end of the year pantomimes were fun to be in, and we had no shortage of talented performers wanting to be part of something other than an under-rehearsed comedy sketch on In Melbourne Tonight."
So what happened to these miniature masterpieces from that pioneering era? Fortunately they were all preserved on 16mm film. In later years, during which time many irreplaceable relics of early television were consigned to the rubbish tip, friends on the lookout rescued these gems and quietly handed them onto Denzil. And so it was that my father ended up with copies of six of the seven "Pantos" in his personal collection (only a part remains of the 1960 production, "Dick Whittington").
These Christmas Pantomimes represent perhaps the richest surviving record from the era of the original Happy/Tarax Show — the period 1957 to 1964.
My father was proud of these early television adventures and enjoyed showing them to interested audiences, young and old. Before he died, Denzil expressed his wish to see these productions transferred to DVD so that a wider audience of people, some old enough to remember the originals, as well as younger ones interested in television history, could see them again.
And so to the current project: To transfer some of these early productions from 16mm film and restore them as well as possible for release on DVD.
In the next post, we will look in more detail at the surviving films and outline the proposed restoration process.